TREX Patient
Many referral candidates are very hesitant in starting their transplant journey and are likely to drop out due to the common barriers that exist along the way. TREX Patient was created with the patient and their social support system in mind. 
Quick Look at Features
Proactively engages patients in their transplant journey 
Invites patient's family and friends to learn more about transplant and living donation 
Informs patients about risks and benefits of transplant and living donation
Increases patient informed decision making by providing transplant center compare features
Invites potential living donor to initiate the donation process through our application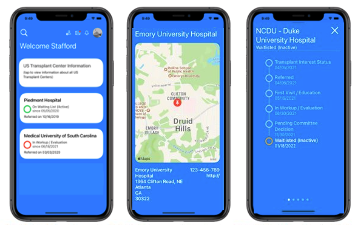 Our Patient App was created with the patient's psychosocial needs and support system in mind. Transplant is a marathon that requires the support of others to get to the finish line. The TREX Patient App reduces patient's psychosocial stresses such as feeling overwhelmed and lonely by engaging patient's family and friends during the transplant journey.
Patients can choose the level of access each social support member has so that if for example, a patient wanted to share more broader information with a community of people, the patient can determine what type of information is shared.
Provides healthcare providers insight on patient's support structure by tracking social engagement activities like which transplant and living donation resources were accessed, time spent on each resource, and scoring on gamification features.
Once waitlisted, patients are sent information as to how to remain active on the waitlist or if inactive, what needs to be done next.