TREX Dialysis
TREX Dialysis is an application used by CKD and ESKD providers to track patient's transplant status across the entire census and gain insight into common barriers, and proactively identify where and why a patient is stuck in the referral process. TREX streamlines the referral process, patient tracking and communication all in one location. TREX enables care teams to efficiently collaborate patient's transplant journey allowing patient and their social support the ability to participate via the TREX Patient application.
Quick Look at Features
Standardizes referral processes that provides assurance the referral was received while meeting the referral needs of the receiving transplant center
Manages alerts, notifications and reminders of upcoming or incomplete tasks are made easy, allowing clinicians to engage a patient in a more definitive way
Provides bi-directional, real-time communication between referring source and receiving transplant center captured in a systematic and organized method, thus allowing full treatment plan collaboration.
Increases alignment with CMS mandates and ESRD Network goals and initiatives by providing capability to monitor patient progression and ability to address process barriers and inefficiencies.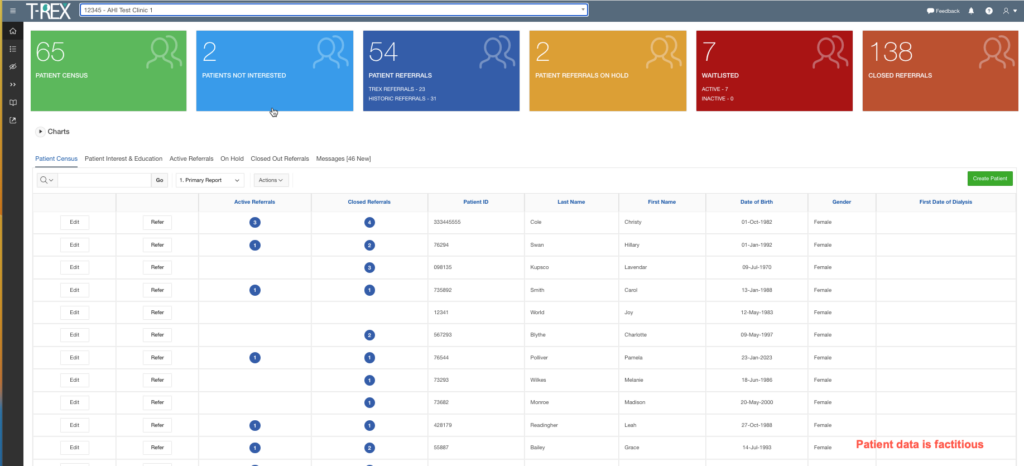 TREX for Dialysis and Nephrology Practices
APEX Health Innovation's TREX platform manages the completion and submission of transplant referrals. TREX provides the transplant center with options to customize their referral form, as well as their required documents. TREX facilitates communication, tracks progress, and allows for real-time reporting within a single cloud based application