TREX Transplant
TREX for Transplant Referral Intake Staff and Coordinators ensures the initial referral meets the transplant
center's requirements while aligning care settings to support the patient through their transplant journey. TREX
streamlines the referral process, patient tracking and communication all in one location. TREX enables care
teams to efficiently collaborate patient's transplant journey allowing patient and their social support the
ability to participate via the TREX Patient application.
Quick Look at Features
Standardizes and expedites referral intake process with assurance
complete referrals are received with real-time confirmations
Receive a referral from anywhere in the country using transplant
center's individualized application and documentation requirements
Eliminates communication barriers between your center and your
referral sources
Eliminates staff burden tracking down missing documents
Reduces time spent accepting or denying referrals customizable to
transplant centers inclusion/exclusion criteria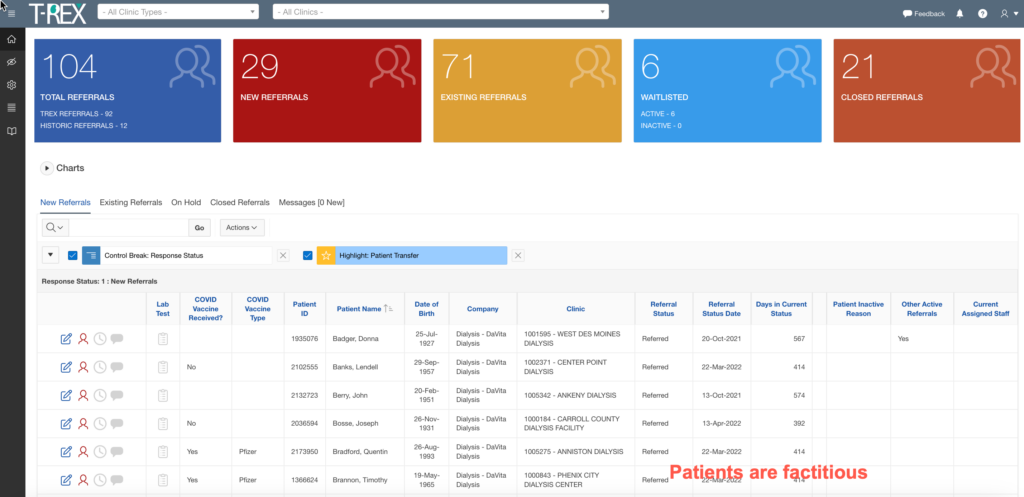 Managing a patient through transplant is a very complex process that requires the involvement of dialysis and transplant center staff. TREX is streamlined to link the referral form, required documents, tracking and communication in to one location. TREX enables dialysis and transplant centers to coordinate a patient's transplant referral process in a single cloud-based application.
APEX Health Innovation's TREX platform manages the completion and submission of transplant referrals. TREX provides the transplant center with options to customize the referral form as well as their required documents.